February, 2013
Feb 21 2013
Starting a new job is always stressful – the download of information, remembering everyone's names, working out the social hierarchy. But then there's stuff like asking where the loo is and having them know you need to pee. Yes, I'm 12.
Enjoy.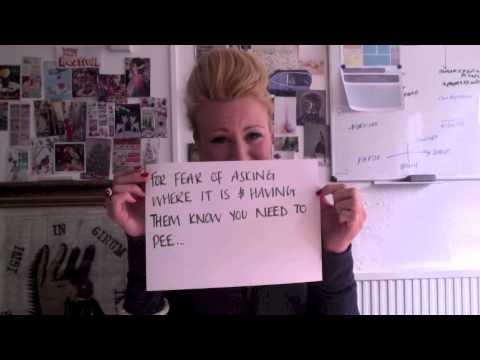 I hope you all is well with you in your world. Leave a comment and put a smile on my face.
Much love,
M xox
Feb 8 2013
So it turns out, I'm pretty rubbish at this blogging thing. The Monday Currently turned out to be quite popular with you lot and a few of you even decided to do your own, making me really happy. Then life threw a few spanners in the works, surgery, a bereavement and a new job to boot, which has kind of knocked me for six. But it's 4.36am and I'm wide awake, so you have my undivided attention. Let's begin.
reading Inc.com. It's my go-to read every day for all things entrepreneurial and startup related. If it's not in your RSS feed, it should be. Do it.
listening to the boy purr next to me. By purr, I do of course mean gently snore… but I'm grateful my tapping isn't keeping him awake.
thinking how lucky I am. I have a super tiny family now (just my mum and step-dad) but an amazing network of friends that I feel privileged to consider family. I couldn't have got through the past month without them. A special shout out to Bex, Chris, Fran, Tarry, Guy, JD, Victoria, Milly, Phil, Keeda, Amy, JJ, Jules, Michael and of course, Golly Got, the boy aka love of my life and my best friend – my mum.
smelling freshly washed sheets. The best.
wishing I could carry my mum in my pocket to give her a squeeze whenever she needs it. Unfortunately she's too tall – even if she was a midget, I don't think it would work.
hoping that I'm brave today. I want to do a reading at my grandma's funeral – I want to do her proud and just hope I don't become a blubbering mess.
wearing nothing. Naughty. Well I am in bed.
loving (after initial embarrassment) that the boy rocked up to the office in full uniform holding a massive bunch of flowers and text me to look out of the window. It was a definite Richard Gere moment. The girls in the office loved it whilst the boys thought he was a "slick bastard". I think that means they were impressed too.
wanting to start saying thanks more on a daily basis. Of course, I say it to those close to me, to the people I work with, to my friends and family. But sometimes, it can be strangers that don't realise they've brightened your day or a random mention on Twitter. Having read this article earlier, I'm going to try and think of 3 things that I'm really grateful for and to give a shout out to someone every day. Keep your eyes pealed on my Twitter account.
needing some sleep. Sure it would be cheaper than my expensive "eye bag" cream.
feeling delicate. That takes a lot for me to admit, I'm a little ball of steel.
clicking through email. The great thing about insomnia is the ability to clear your inbox without it automatically filling back up. Hashtag winning.
My grandma was an amazing lady – she worked in the 50s when not many women did, she had a rebellious side and a naughty sense of humour. She got shit done and had a steely determination with the grace of a true lady. I like to think that some of that lives on in me. I hope to make her really proud of me and to become just half of the lady that she was. Today I'll give thanks to have been blessed to have her as my grandma and I ask that you take an extra 2 minutes to hug the person you love today, no matter how busy you are.
Thanks as always for being awesome. I promise to get back to this blogging malarkey.
M xox