Jul 17 2012
You'll know from previous posts that I'm a huge fan of massages. Therefore when I met the lovely Paola at a recent event and she offered to give me a deep tissue massage, I was more than keen to take her up on her offer.
I arrived at The Albany Club (just minutes from Great Portland Street tube station) which is a private members club and was greeted with the warmest welcome. Paola's passion for massage is contagious and her years of experience shine through. She specialises in deep tissue, manual lymphatic drainage for water retention and slimming and natural facelift massage for rejuvenation and stress management.
I was lucky enough to experience the deep tissue and natural facelift and could really tell the difference. The facelift in particular left me feeling particularly fresh, with a visible difference to the bags underneath my eyes – perfect before a night out. The deep tissue treatment to my back really managed to unknot my back – although you should be prepared that you're likely to ache the next day (all in a good way of course).
Paola has lots of regular clients and it's clear to see why – I know that I'll be heading back for sure. Given her expertise, I asked her to take the time to answer some interview questions which I've included before. My words alone wouldn't do justice to her wonderful treatments. Be sure to check her out for yourself…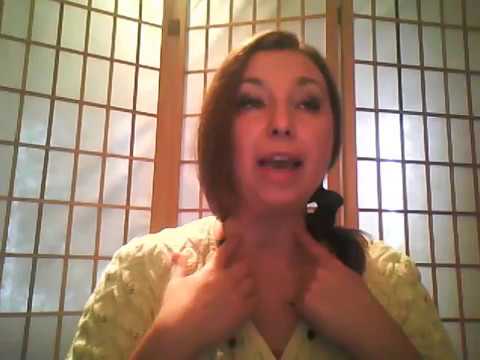 1. How did you first get into massage?
I used to get very stressed in my office job and started getting regular massages years ago. I remember a particular time when my neck was completely stiff and after one deep tissue massage I was back to normal. From then on I was sure that massage can help in many situations.
I went on a charity trip to Machu Picchu in Peru and I had a kind of "epiphany" about how I wanted my life to be and decided to retrain as a massage therapist. That was in 2005 and I haven't looked back since.
2. Which types of massage do you offer?
I can summarise the types of massage treatments I offer in three main categories: deep tissue for tension and injuries, manual lymphatic drainage for water retention and slimming and natural facelift massage for rejuvenation and stress management.
Also, my signature massage is an indulgent 2 hour treatment called Energya Total Rejuvenation which combines all of these techniques for the ultimate relaxation experience http://www.energyanaturalfacelift.com/2012/07/energya-signature-massage-total-rejuvenation-treatment/
3. Which is your most popular treatment and why?
Hands down my most popular treatment is deep tissue massage: my clients work long hours in front of a computer and massage can help with the tension in their back and shoulders. Nothing beats deep tissue when it comes to releasing aches and pains.
4. What are the medical benefits to massage?
Generally speaking massage can help in the recovery from injuries, in releasing aching muscles after a workout and in soothing the central nervous system therefore aiding with problems like anxiety and stress.
5. Can massage help insomnia?
More research is needed in terms of scientific benefits of massage but from my own personal experience treating several hundreds of clients over the years, my natural facelift masssage has helped clients sleep better. The more soothing the massage, the more effective it is in normalisting sleeping patterns. Lymphatic drainage is also useful for insomnia. Deep tissue is strong and intense so sometimes your body needs to process what's going on and depending on the person it can either be reviving or relaxing so there's no hard and fast rule.
6. What can people do to help themselves at home between massages?
Stretching, stretching, stretching! I always recommend it to prevent the build up of tension. That's why I post regular video tutorials on my website, like this one on neck stretches: http://www.energyanaturalfacelift.com/2012/07/neck-stretches-to-release-tension/
I also recommend exercise like yoga and Pilates to release muscles and joints and improve posture and alignment.
7. How does the non-surgical facelift massage work?
The natural facelift or non-surgical facelift massage is a gentle technique working on the skin and the muscles in the face. A precise sequence of strokes brings fresh blood to the tissues, helps smooth out fine lines and helps tone the facial muscles. The idea is to provide profound relaxation and a mini workout for the face. The end result is a fresher appearance and the feeling of being on holiday.
8. Can massage be used to change your body shape/tone?
Absolutely. One of the massage treatments I offer is the sculpting massage http://www.energyanaturalfacelift.com/available-treatments/slimming-massage/ which combines deep tissue and lymphatic drainage. The technique works on the fat deposits in targeted areas of the body using friction and pressure. This helps breaking down the fat cells so that they don't bulge in the mesh of connective tissue (the "orange peel effect"). In conjunction with diet and exercise clients have managed to lose inches with the slimming massage.
9. What are the trends that you are witnessing with society and wellbeing? Is health and body awareness increasing in importance from your experience?
In the 6 years I have been practising I have noticed that people are becoming more aware of their health but unfortunately I have also seen an increase in concerns about body image and eating disorders. Also I am slightly worried about people who demand quick fixes: the body needs 6 to 8 weeks to show any changes in shape and size so if you start a new eating and exercise plan hoping to get into a smaller dress size within 2 weeks you are bound to be disappointed.
10. What are the things that you most love about your job?
I chose this "job" (I call it my passion) because I am a firm believer in complementary medicine. Unlike my previous corporate jobs I receive instant feedback and helping clients get healthier is very rewarding. I am a facilitator, not a healer, so it's all about teamwork: I work with clients to achieve better states of relaxation and wellbeing. The satisfaction of doing a good job and of getting tangible results is the best feeling in the world.
I also enjoy sharing my knowledge with clients and the general public which is why I make sure I spend enough time blogging, writing articles for external websites (for example The Huffington Post) and creating video tutorials.
Finally, it has been an exciting ride so far and getting public recognition for my efforts was thrilling: I won Best Practitioner in 2010 and the Italian Chambers of Commerce gave me a special award in 2011 for services to the industry.
11. How can people get in touch with you?
My website has all my contact details: www.energya.co.uk. I aim to reply to all massage enquiries within a day.